LEARN MORE ABOUT UNIÓN MAJOMUT
The Unión de Productores Orgánicos Beneficio Majomut is a non-profit organization made up of small coffee producers in the Los Altos de Chiapas region of Mexico. It was created with the objective of improving the living conditions for families of the small producers belonging to this organization, through the production and marketing of high-quality organic products, in harmony with the environment, and through food diversification for food security.
Currently, Majomut brings together nearly 1,000 families of coffee producers from 35 indigenous communities, specifically Tzotzil and Tzeltal communities. Majomut was formed in 1981, obtained its legal registration in 1983, and since 2011, its official name has been "Unión de Productores Orgánicos Beneficio Majomut de S.P.R. de R.L.".
The organization works in the transition zone between pine forests and the Lacandon jungle, where the Los Altos de Chiapas coffee region is located. The area is characterized by its rolling hills and mountains, with an average elevation ranging from 900 to 1,700 meters above sea level, as well as frequent rainfall and soil derived from volcanic ashes—factors that contribute to excellent-quality coffee plantations.
It was in late 2011 that Majomut obtained its certification with the Small Producers' Symbol, as part of its strategy to reinforce the presence of small producers' cooperatives in the international market that is controlled by major transnational corporations.
"For us, Fair Trade has been an opportunity for a different market, which in some way recognizes the efforts of producers through the minimum price and the social incentive that is greater than in other systems. As small producers, we identify with the Small Producers' Symbol, because it's a guarantee for consumers to have assurance that the product (in this case, coffee) comes from a land plot that is cultivated in harmony with the environment, and that the price for the sale of our products goes directly for the well-being of our families, to improve our plants, and to continue to offer a high-quality product. And we want to see the number of fair trade consumers and buyers continue to grow."

-Fernando Rodríguez; Unión MAJOMUT (Chiapas, Mexico).
One of the areas of work carried out by the organization that is especially worth highlighting is food self-sufficiency and organization of women coffee producers, with the aim of improving the food security of coffee-growing families, to have greater food autonomy and to promote women's participation in order to strengthen the organization's internal democracy.
Another outstanding project is the creation of a Campesino Micro-bank. This is a challenge taken on by the local financing system, administered by campesinos and adapted to their culture and needs, since financial services and loans in traditional financial institutions have historically been an obstacle to development in Mexico's rural sector.
Learn more about Majomut Union at its web site: http://www.majomut.org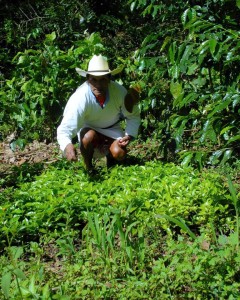 Images courtesy of Majomut