In this section of the newsletter, we will be highlighting the characteristics of the SPP as a label developed by small producers in the international fair trade movement. The texts below come from Frequently Asked Questions as they appear in our website: www.spp.coop
What distinguishes the SPP symbol from other fair trade labels is primarily that it is an initiative that is 100% owned by small producers and governed by small producers, it works only with organized small producers, and it requires a serious commitment from companies.
Ownership and Governing Structure
Producers and Ownership
SPP-certified small producers' organizations make up 100% of FUNDEPPO's and the SPP's owners or 'Owner Members.' In other labels, the continent-based producers' networks for Africa, Latin America and Asia-Pacific are owners of 50% of the votes.
'Small Producers' or 'Producers'
In the SPP, 100% of its certified producers' organizations are small producers' organizations. In other labels, their continent-based networks of producers are made up of small producers' organizations, unorganized small producers ('production by contract') and workers on private plantations.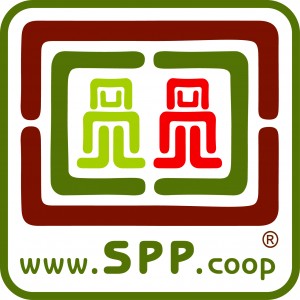 https://spp.coop/wp-content/uploads/2016/06/13220663_1197228866962851_4034179275842010186_o.jpg
1365
2048
CyDSPP
http://spp.coop/wp-content/uploads/2016/04/Logo_SPP_Universal_Color_15_01_2015-1030x1030.jpg
CyDSPP
2016-08-01 15:26:46
2016-09-02 12:12:37
SPP'S UNIQUE CHARACTERISTICS