Successful SPP Meeting at BioFach 2017
Nuremberg, Bavaria, Germany, February 17, 2017
The only fair trade label 100% owned by small producers.
Participation of 98,000 families of small producers from America, Africa and Asia
Reports annual sales growth of 30%
The Small Producers' Symbol (SPP) organized a meeting in three languages in the framework of Biofach 2017 on Friday February 17. The event was aimed to organizations of small producers, buyers, importers, as well as agencies, NGOs and other organizations interested in getting to know and participate in the SPP.
It kicked off with a welcome words by Ms. Rosa Guamán, Chair of the SPP Global Board of Directors and small producer of aromatic herbs and uvilla (physalis peruviana) in Chimborazo, Ecuador.
Jerónimo Pruijn, Executive Director of SPP Global, gave a presentation of the SPP in which he explained how 'The Symbol' was born in 2006, based on the need for small producers' organizations to 'build their own home' in the fair trade market, to defend this democratic, inclusive and sustainable form of organization, production and marketing facing the big productive and commercial companies.
Currently, 105 producers' organizations in SPP, representing more than 98,000 families of small producers in 21 countries of America, Africa and Asia. There are several dozens of companies and cooperatives that put SPP products within the reach of consumers in 30 countries, mainly in Europe and North America, but increasingly also in the countries of production themselves. Among the certified products are coffee, cocoa, fruits, herbs, sugar, honey, quinoa, juices as well as handicrafts.
The Small Producers' Symbol works with eight independent certification bodies that serve in different regions of the world under strict quality standards (ISO).
Annual SPP sales growth is between 25% and 35%, with a total of € 25 million in 2016. The SPP already has five national platforms in Colombia, Ecuador, France, Guatemala and Peru and a representation in Germany.
The attendees were able to taste SPP coffee courtesy of the German companies Progua and Café Chavalo.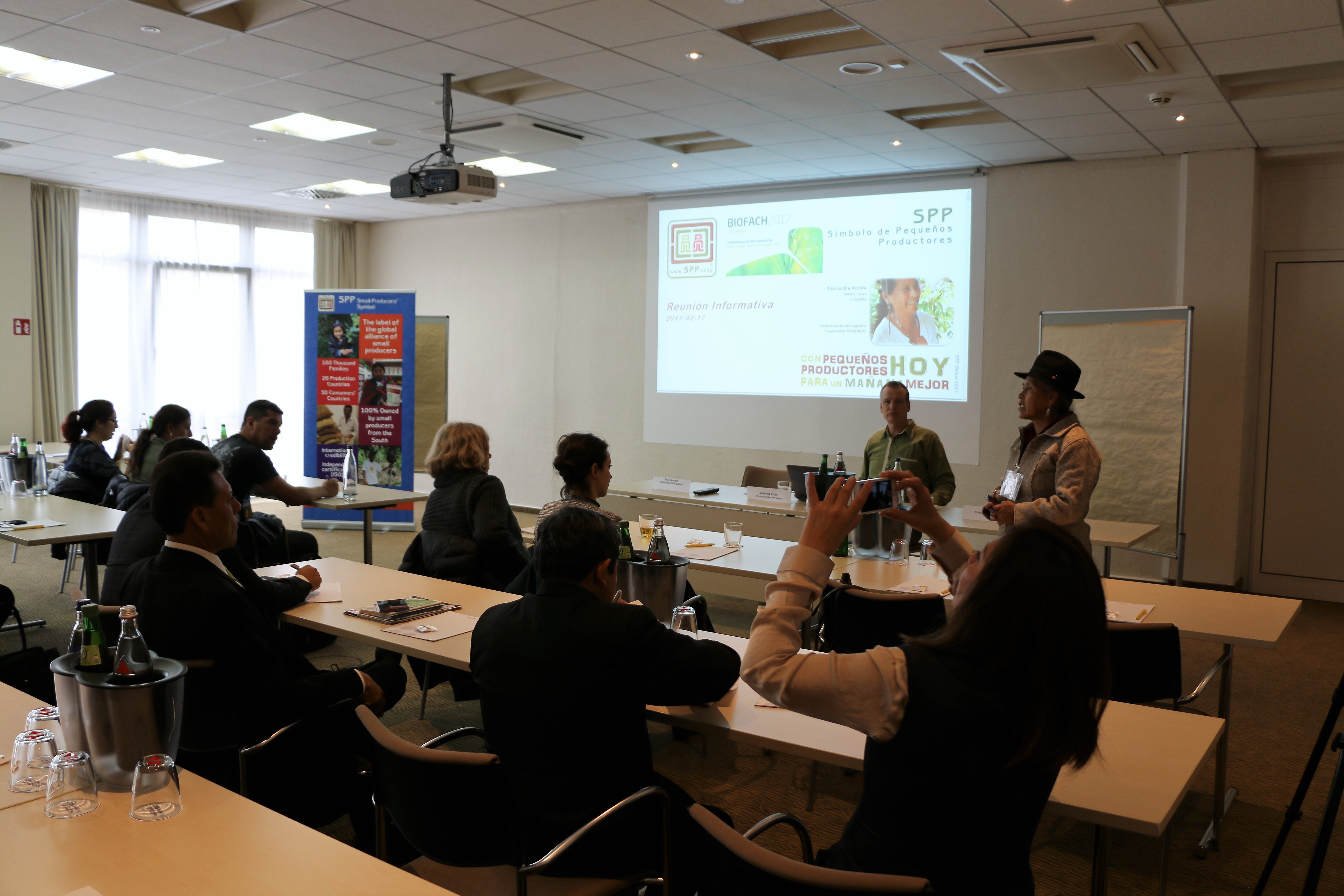 SPP BioFach 2017 Meeting, Núremberg, Alemania.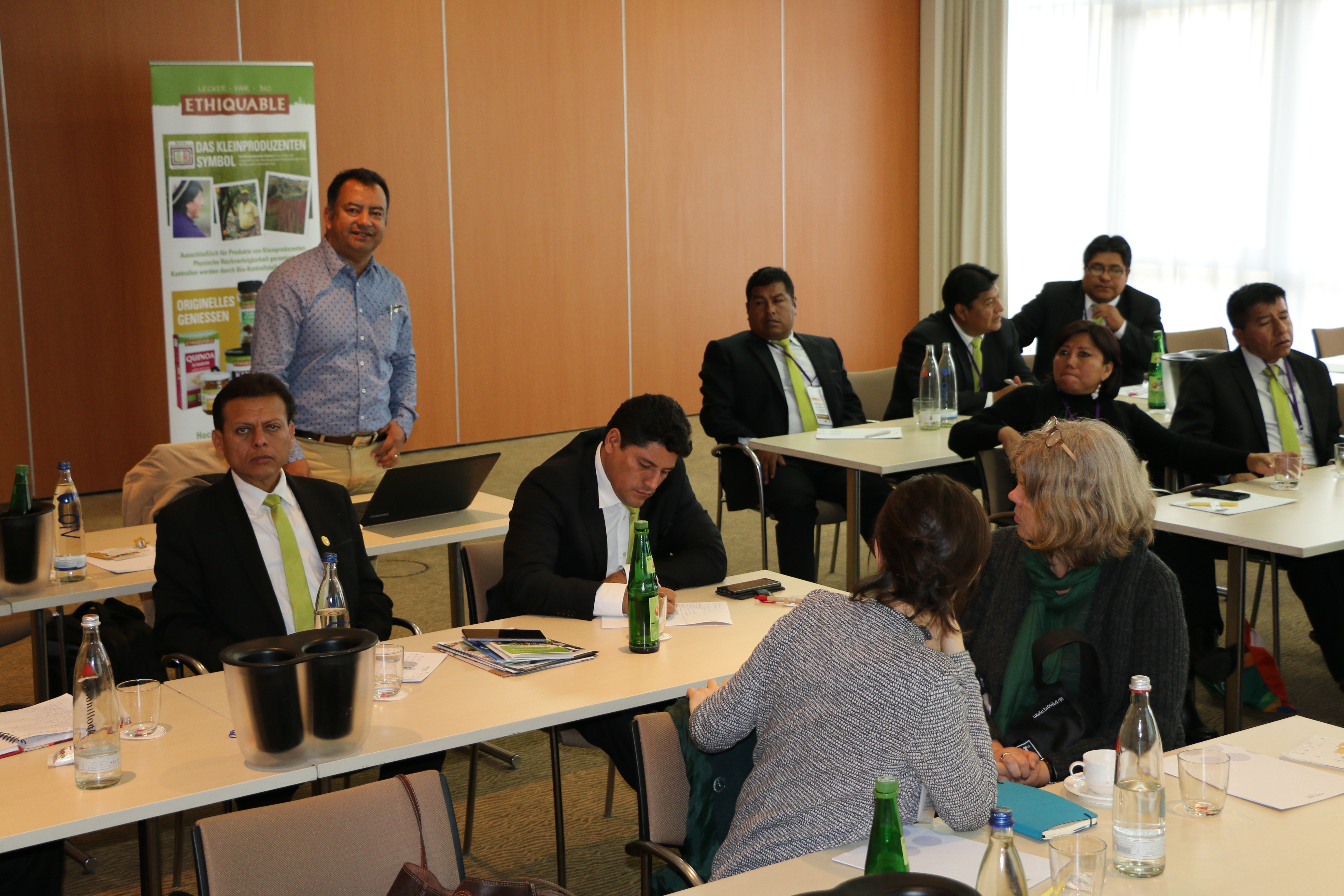 Freddy Urbano, COSURCA (Colombia) -standing-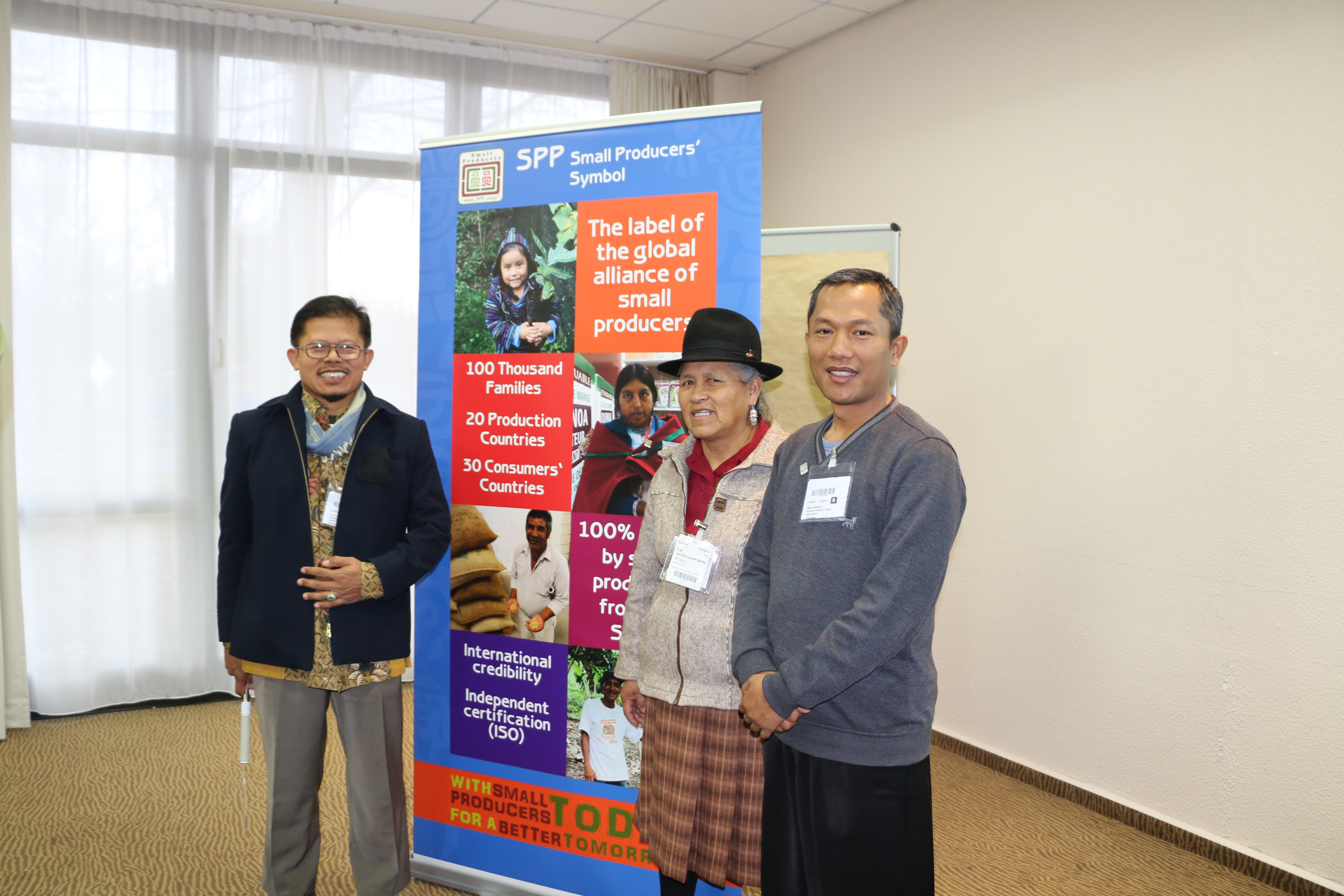 Prof. Ir Ahmad Sulaeman, Indonesia (l); Rosa Guaman, Chair SPP Global (m)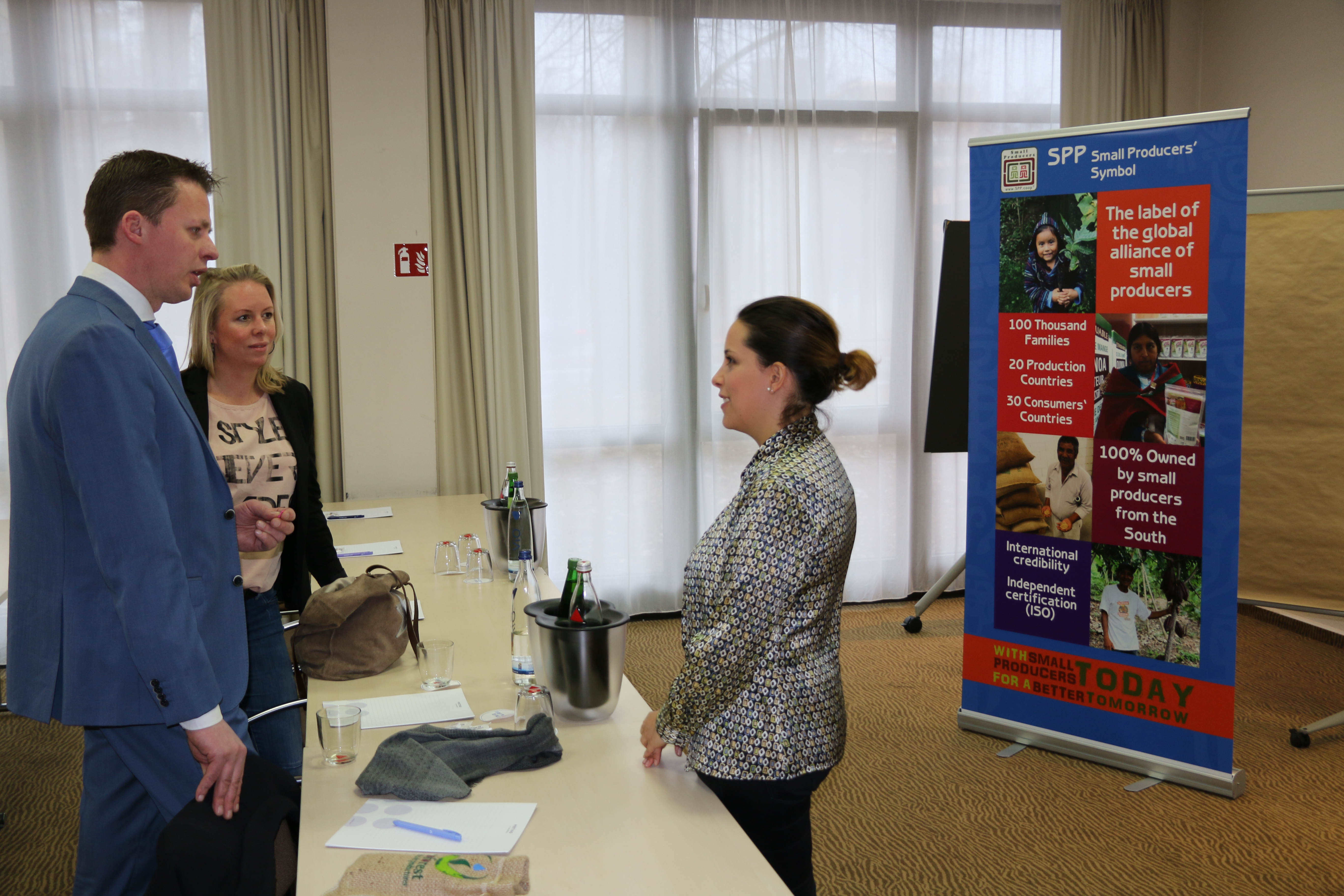 Company representatives of Stiftelsen Biodynamiska (l), Andrea Mendoza  of SPP Global(r)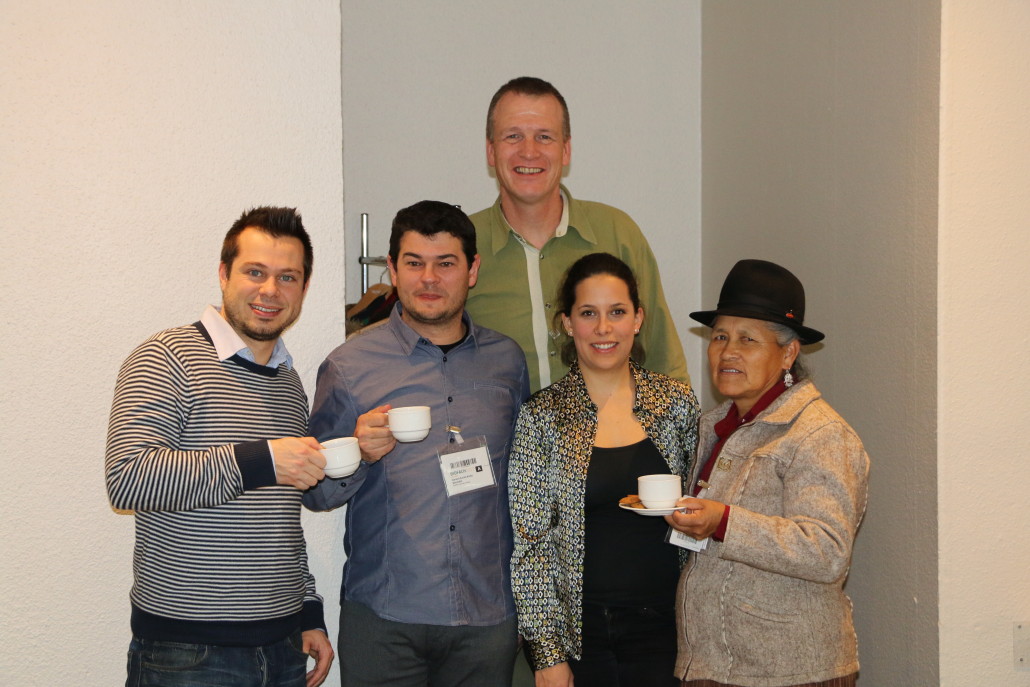 FLTR: Arnaud Gayral (Café Michel, France); Kolia Arché (Saldac, France), Jerónimo Pruijn, Andrea Mendoza, Rosa Guamán (SPP Global)
The Small Producers' Symbol, SPP, is a label that represents an alliance among organized small producers to build a local and global market that values the identity and the economic, social, cultural and ecological contributions of products from Small Producers' Organizations. This alliance is based on a relationship of collaboration, trust and co-responsibility among women and men who are small producers, with buyers and consumers. The SPP is backed by an independent certification system. The SPP represents the identity of organized small fair trade producers, to distinguish us in local and global markets with our products and values. The SPP is backed by an independent certification system, guaranteeing consumers that products come from authentic, democratic, self-managing organizations of small producers, and that they have been produced in line with criteria for economic, social, cultural and ecological sustainability, and commercialized under fair conditions. The SPP is more than a label. It is a particular way of improving prospects for life and well-being through collective, co-responsible work among small producers, consumers and other stakeholders in the market and in society. More information: www.spp.coop info@spp.coop FB/spp.coop TW/SimboloPP.

Esta entrada también está disponible en: Spanish